Understanding and Accessing z/OS Catalogs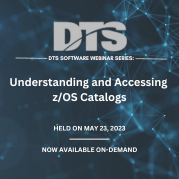 Like the card catalog in the libraries of old, the z/OS catalog identifies the location of and provides copious information about every dataset in the system. Catalogs (and their components, the BCS and the VVDS) are critical z/OS resources. Almost any request for information about files, volumes, or data in a mainframe system requires that the catalog be accessed.
There are several different ways of accessing catalog information, and in the May 2023 webinar we discussed catalog structure and topics such as the LOCATE and CAMLST catalog access macros and the Catalog Search Interface that allow you to easily retrieve almost any sort of information from the catalog. We also provided a couple of examples that you can use to generate your own catalog-based reports.

Simply fill out the form to view the webinar and/or download a PDF of the presentation.