Webinar Topic: Understanding IDCAMS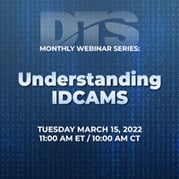 In our March 2022 webinar, DTS CTO Steve Pryor presented "Understanding IDCAMS."
Newcomers to the mainframe world are often at a loss as to how to go about tasks requiring the manipulation of z/OS® datasets - creating, reading, writing, using, and deleting them, especially where 'exotic' structures such as VSAM clusters, catalogs, and PDS/PDSEs are involved.

In z/OS, probably the most common utility for dealing with many datasets and with the system catalog is Access Method Services - IDCAMS. An understanding of IDCAMS and its extraordinarily wide range of functions and features is an absolute necessity for mainframe analysts, whether for applications programmers or system gurus.

Here's What You'll Learn:
What IDCAMS is used for

The most important and useful features and controls

Best practices to get information and transform data
Simply fill out the form to view the webinar and/or download a PDF of the presentation.