Introduction to Virtual Tape and Tape Management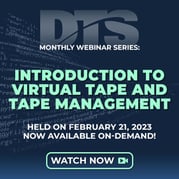 As the last of the "real" physical tape systems disappear, an understanding of modern virtual ("tape-on-disk") systems that replace them is a necessity for any z/OS® engineer.
Despite the availability of cheap DASD storage, applications that use tape, which is unparalleled in its capacity and density, comprise a significant portion of the work for nearly every data center. Equally important are the large and complex vendor-provided tape management systems that manage the retention, expiration, and reuse of thousands or millions of (now virtual) tape datasets and volumes.


In this month's webinar, we'll discuss the characteristics of virtual tape systems, both "manual" and automated, tape migration and use strategies, and the functions and features of the products that manage tapes.
Simply fill out the form to view the webinar and/or download a PDF of the presentation.