Reap the Benefits of Exit Routines
Without the Need for an Assembler Programmer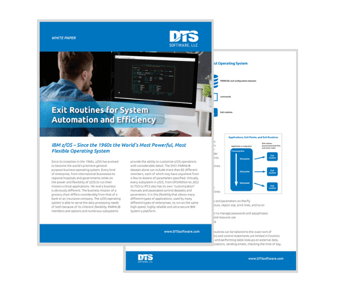 Exit routines can have many benefits for z/OS operating systems, such as superior functionality, detailed customization, and access to features otherwise unavailable. But they require complex assembler language and can have catastrophic results if improperly coded or used.

So how can you take advantage of all the benefits that exit routines provide without the need for expensive, highly-skilled programming expertise? DTS Software lays the groundwork in this whitepaper.