Webinar Topic: Mysteries of the Storage Class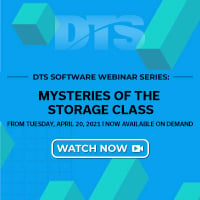 In Mysteries of the Storage Class, DTS Software CTO Steve Pryor offered viewers a more thorough understanding of the Storage Class construct, which lies at the heart of System-Managed Storage and specifies whether or not a dataset is SMS-managed.
The two dozen or so attributes that can be specified in the Storage Class indicate what a dataset needs in terms of performance and availability and directly influences the volume selection.

Simply fill out the form to view the webinar and/or download a PDF of the presentation.